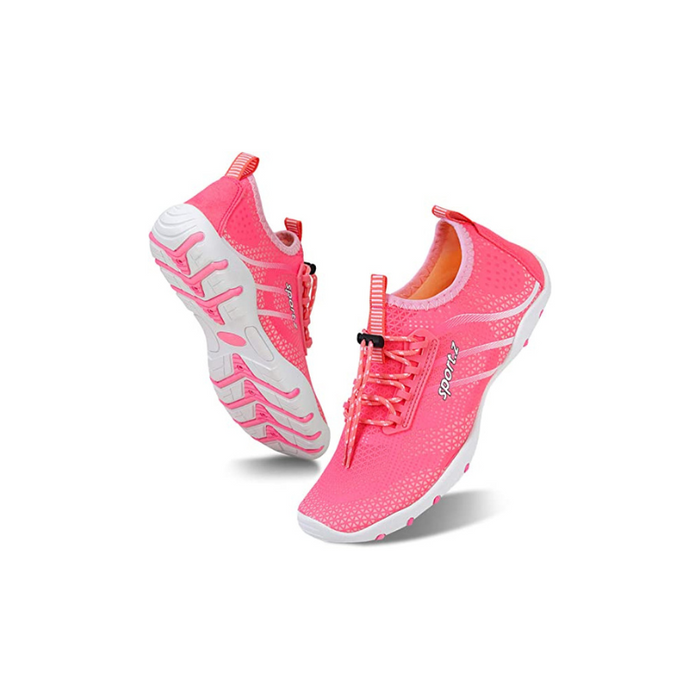 Lace Up Sports Aquatic Unisex Shoes
Original price
$29.99
-
Original price
$29.99
Lace Up Sports Aquatic Unisex Shoes are designed for your utmost foot safety and comfort, these shoes feature a rubber sole with a thick foam arch-support insert. Their flexibility and thickness provide excellent protection against rocks and stones. The anti-slip rubber outsole, equipped with a shock-absorbing cushioning toe guard, ensures durability and prevents seam fraying. Experience quick drying and a super comfortable shoe environment with the unique top-quality sole that includes seven drainage holes per bottom. The breathable and stretchable uppers and the smooth neck design offer good elasticity and a comfortable fit. These ultra-lightweight shoes provide the freedom and flexibility of socks, making them a fashionable and practical alternative to bulky water shoes.
Features:
Rubber sole

FOOT SAFETY AND COMFORTABLE: The rubber soles, with a really comfortable and thick foam arch-support, insert inside of them, are flexible yet thick enough to protect your feet from stepping on rock and stone.

ANTI-SLIP OUTSOLE AND DURABLE: The anti-slip rubber sole, with an ergonomically molded, shock absorption performance cushioning separated protective toe guard. Excellent workmanship to prevent the seams around the toes fray and split within a short time.

QUICK DRY WITH DRAINAGE HOLES: Unique and top-quality sole with seven holes on each bottom to ensure proper water flow out of them which creates a cooler and healthier shoe environment, quick-dry, and super comfortable during water sports.

GOOD ELASTICITY AND STANDARD FOOT MODELS: Breathable and smooth fabrics with fine stretch on uppers, flexible and comfortable. Smooth designed neck prevents chafing when wearing our water shoes. With ergonomically molded and standard foot models, Perfectly wrap your feet!

ULTRA-LIGHTWEIGHT FASHION: Like socks, super lightweight and flexible, make you feel great freedom and comfortable in wearing. A great alternative to bulky water shoes! Possessing one pair of these shoes can make you more different and fashionable with individual character.
Size Chart : 
| Brand Size | Europe | Heel to toe (in) |
| --- | --- | --- |
| 11 - 11.5 US Little Kid | 28 -29 | 7.5 |
| 12.5 - 13 US Little Kid | 30 - 31 | 7.9 |
| 1 -2 US Little Kid | 32 - 33 | 8.3 |
| 3.5 - 4 Women | 34 - 35 | 8 |
| 5.5 - 6.5 Women, 4.5 - 5.5 Men | 36 - 37 | 8.5 |
| 7.5 - 8.5 Women / 6 - 7 Men | 38 - 39 | 9.2 |
| 9 - 10 Women/ 7.5 - 8.5 Men | 40 - 41 | 9.7 |
| 11 - 12 Women/ 9.5 - 10 Men | 42 - 43 | 10.2 |
| 12.5 - 13 Women/ 10.5 - 11 Men | 44 - 45 | 10.7 |
| 13.5 Women/ 12 - 13 Men | 46 - 47 | 11.2 |
| 13 - 13.5 Men | 48 - 49 | 11.5 |