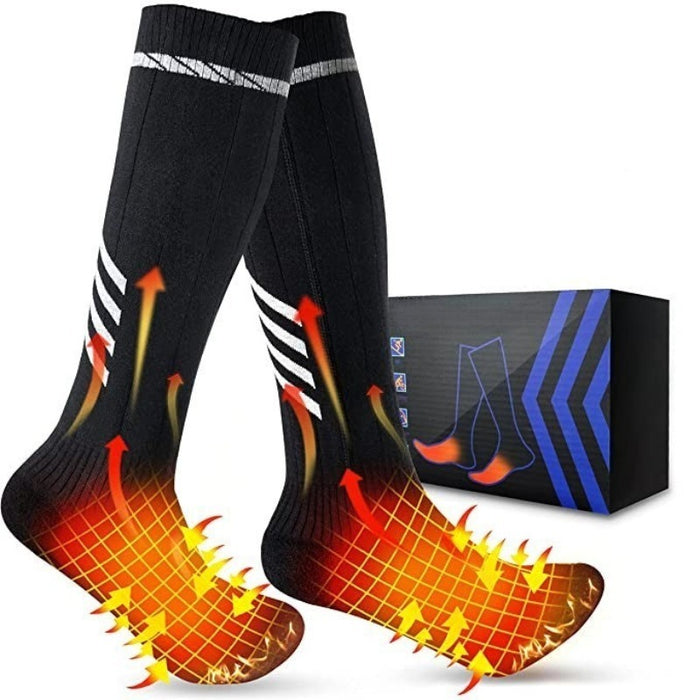 Heated Warmer Thermal Socks For Men & Women
Original price
$49.99
-
Original price
$49.99
Heated Warmer Thermal Socks For Men & Women are designed to keep your feet warm and comfortable during the colder months. The solid pattern adds a touch of simplicity to any outfit. These thermal socks are designed with thick insulation to trap heat and keep your feet warm even in the coldest weather. 
Specifications:

【Instep & Forefoot & Toes Heated Socks for Men: 2 Heating Area Heated Socks】i Newest Heated Socks designed heating soles, insteps, and toes. Out Heated Socks must be great for cold feet. Give you a warm winter-Begleri Heated Socks.

【Heated Socks with 3.7V 4000mAh】Heated Socks for Men is used Newest Li-ion Battery - 3.7v 4000mAh which work 5-10 hours(109℉- 149℉).The thin electric modules of Heated Socks warm the blood on your front instep to warm your entire foot.

【Upgrade 3 Levels Heated Socks】This Heated Socks have 3 levels of temperature settings for your choice. Our Heated Socks are 7X warmer than normal socks. Electric Socks through specially designed to keep your feet warm even when the temperature outside is way too low.

【90% Combed Cotton Heated Socks for Men and Women】The Heated Socks are made of thick fabric cotton, practical, unbelievably soft, and comfortable! The tight of the Heated Socks can help you keep the temperature not lost too fast. The Heated Socks will be very gentle with the skin of your feet and ankles and they will never irritate it nor make it itchy.